KAREN FARKAS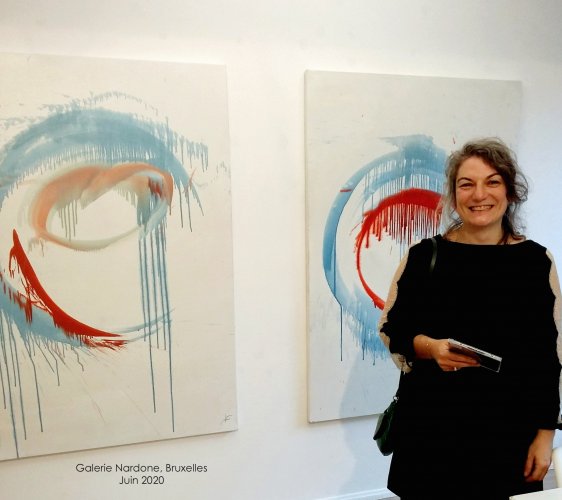 Karen Farkas
Karen Farkas was born 1972 in Paris.
A visit to Karen Farkas' studio is an unpredictable journey: a street that leads nowhere, an entrance under the porch and a courtyard filled wih various plants, passing though of an architecture studio (her former profession: a nice wink?), a staircase, a door,a corridor, another door and finally the studio where painting equipment, chairs, tables, underway and completed paintings, and above all walls covered not with graffiti but with a lot of other things, poems and liberery quotes that perfecly illustrate the artist's pictoral intentions. Her own world is like a jewellery box.
A gesture, a drawing!
A false gesture! Resumed, worked, reworked, sanded, erased, repainted. Result:
a painting! Karen Farkas' work has two facets that seem to be one.
Her inks and charcoals on paper are similar to the works of Patti Smith or Artaud with their spontaneity and their raw, abstract appearance. On the contrary, the figurative aspect is revealed behind the line and revels with patience human figures or countryside landscape.
Behind her gestual painting, a very sophosticated and sensitive glaze appears on the almost snowy white background. The colours of the forms are of an almost clockwork precision!
Not to forget the uniquely nature of Karen Farkas' work: transforming mistakes, or works on paper that the artist considers to be unfinished, into painted sculptures shaped as paper balls.Two dimensional drawings become three dimensions with her sculptural work giving a new energy.
These observations show the poetic diversity of Karen Farkas and a obvious invitation to the viewer to dive into her work.
Baudoin Lebon, March 2020

"A mon seul désir" Solo show Baudoin Lebon gallery, Paris ,vernissage November 30 2022, until January 14 2023


September 2022, January 2023: "Pleins feux",groupshow, La chapelle de Clairefontaine, France


December 1 2021 - January 15 2022 "Le dessin de 'A à Z' from Arakawa to Zao Wou-Ki" groupshow Baudoin Lebon gallery, Paris.
-VENICE, "Cadravre Exquis" Chiesetta della misericordia, Campo dell'Abbazia, groupshow curated by Antonio Nardone, 24 Juin - 16 Juillet 2021.

October 28 - December 5 2020, "Bleu", groupshow, Baudoin Lebon Gallery, Paris,

October 21- 26 2020 "The Paris art week", duo show Karen Farkas et Vicky Colombet ,Baudoin Lebon Gallery, Paris,

June 7th - July 4th 2020 solo show at the Nardone Gallery, Bruxelles.

"Paysages" groupshow at "La Chapelle" contemporary art center, Clairefontaine en Yvelines, until September 1st 2019

2019 May31- June 2 - Busan International Art Fair, South Korea, Baudoin Lebon Gallery.

ART ELYSEES Baudoin Lebon Gallery, Paris, October 18-22. 2018

June 6th - July 28th 2018, "Tête à tête" Karen Farkas et Melissa Coote, duo show at the Baudoin Lebon Gallery, Paris
https://vimeo.com/275101749
https://slash-paris.com/critiques/melissa-coote-karen-farkas-galerie-baudoin-lebon

2018 April 19-22 -Busan International Art Fair, South Korea, Baudoin Lebon Gallery.

2018 April-June, Private Collection, Matériaux artspace, Seoul, South Korea.

2017 November - ST.ART, Strasbourg, France, Baudoin Lebon Gallery.

2017 September - KIAF Art Fair Seoul, South Korea, Baudoin Lebon Gallery https://fr-fr.facebook.com/120694827969763/photos/?tab=album&album_id=157912725545983
- 2017 June, Busan International Art Fair, South Korea, Baudoin Lebon Gallery.
-July 2015, Minsky Gallery, Paris -Paysages Fugitifs- solo show
37 rue Vaneau 75007 Paris
http://en.artmediaagency.com/112477/an-interview-with-karen-farkas-fugitive-landscapes/

2011-2013, presented by the Céline Poisat Library, rue du Cherche-Midi, Paris


April-May 2011:solo exhibition


April-May 2012: group show
http://www.liberation.fr/culture/20...

Juin 2012 Gerard Depardieu's home Paris, exhibition with the Céline Poisat Library.

November 2008. Exhibition at the Galerie Peirce, Paris.
Art Shows handled by the Galerie Peirce :


Art London. October 2008, October 2009.


Affordable Art Fair Paris, June 2010.


Winter Show. December 2009-January 2010.

May 2007. Exhibition at the Galerie Etienne de Causans, Paris